Like most young adults, Hayden Hendricks struggled to maintain the same fitness he had during high school. College weight gain, demanding military training, and COVID-19 lockdowns didn't help.
Hendricks sought answers in the gym. Determined to get elite-level instruction at a price that fit his military student budget, Hendricks found BodyFit and devoured one program after another.
---
---
A year later, Hendricks is a dedicated member of the BodyFit community and sharing what he's learned, leading by example and inspiring others with his healthy outlook.
We sat down with Hendricks to learn more about his fitness journey and his biggest takeaways from his one-year turnaround with BodyFit.  
BBCOM: Tell us about yourself. Have you always had a fitness background?  
Hayden Hendricks: I'm a third-year engineer at the United States Coast Guard Academy. In two years, I'll graduate as a commissioned officer, and I plan on pursuing a career in the medical field.  
I grew up running cross country in high school, and I was a big swimmer. I loved to play sports all the time, and I've been rock climbing for about 4 years.
What made you look for help with your training and fitness?
At college, my fitness kind of de-escalated. I didn't have that discipline of a coach telling me when to work out, and I kind of lost motivation and gained the freshman 15.
---
---
I needed something that could help me.
Being a college student and active U.S. military member, I don't earn a lot. I needed something that wasn't super-expensive, but something that was still going to get me where I wanted to go.
I started using one of the Bodybuilding.com workout plans. I was hooked. It shows you exactly how to do the workout and what muscles it works. It's really cool, and it wasn't hard to use at all.
What are some of your favorite features of BodyFit?
Every time I open the app, I see a workout for the day. Even if I don't want to work out, BodyFit helps remind me I have to. I know the outcome is worth it.  
I also get a discount when I buy supps, so it kind of pays for itself—I barely even notice my monthly membership. I got four tubs of really good pre-workout for 70 bucks. I can't beat a deal like that.
What goals did you set for yourself that helped you stay motivated to train?
---
---
I am very interested in physique building, which requires commitment, sacrifice, and dedication. You need a different mindset to do something like that.  
I started with the program called Chiseled. Right away the first two weeks kicked my butt. They were not easy at all. And that's what I was looking for.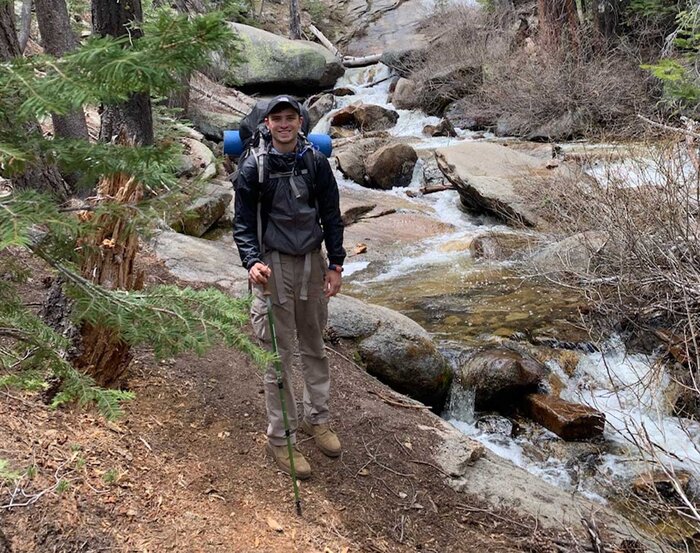 Were there any obstacles you encountered on your journey?  
Rock climbing is how I clear my mind. But during COVID-19 I wasn't really able to do that. We were stuck on campus.  
I had my two hours set aside to work out, and I decided I couldn't miss that time. I needed to stay dedicated and get to the gym.  
Even if it was leg day, I would go. And after, I would feel amazing. Training cleared my mind.  
Changing your physique has a lot to do with diet. Did you follow the BodyFit meal plans?  
---
---
When I followed the nutrition guide, I felt really good. My arms grew a couple inches, my chest was more defined, my six-pack came back in. Last time I had six-pack abs was high school.
Even my friends noticed. I felt a boost of confidence. I was working out and improving my weightlifting while also getting my body to look the way I want it to look.
What were some of the most memorable moments of your fitness journey?  
Before I started, I could barely deadlift 300 pounds. During #freakmode, I had to do a 4×4 deadlift. I calculated 85% of my 1RM, and it was 315 pounds. I didn't think I'd be able to do it, but I decided to just try and see how it felt.
It was one of my proudest moments. I was doing reps at 315 like it was nothing. Five months ago, I could not have done that at all. Now, it's like I can't stop.  
Every day, I click into BodyFit and I see my workout pop up. It's like having a coach. I can track each workout, check off what I do each day, and get that instant feeling of accomplishment. It always feels like you're improving. Having those little milestones is amazing.
What did you learn from this experience?
---
---
Find something that helps you push forward every day. BodyFit did it for me. It's super helpful, you get great deals on protein, and just the fact that I can talk to someone and connect with the community is really cool. I don't think you can find that anywhere else.